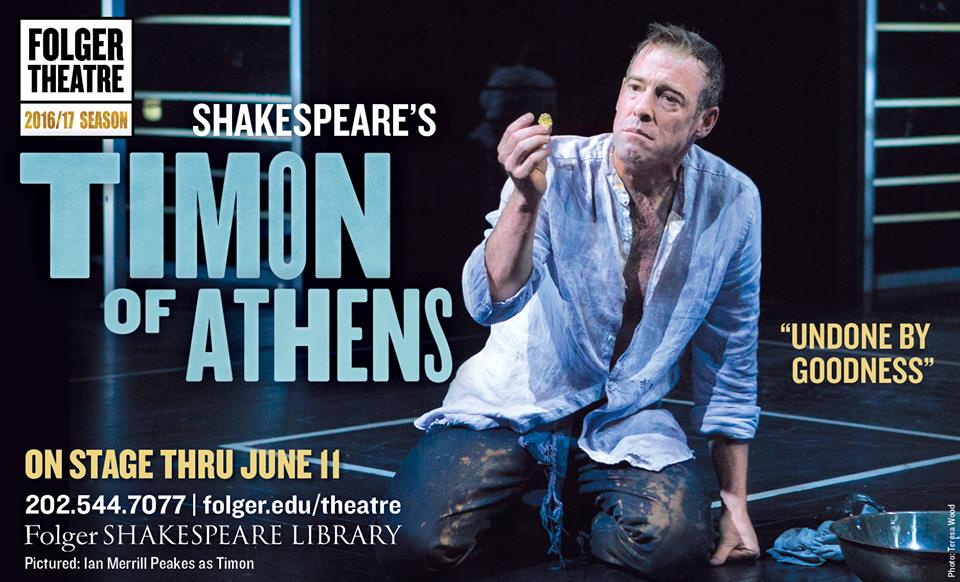 During the intermission of Timon of Athens at Folger, I eavesdropped on a discussion among the 3 persons (who looked like a mother with two teenage children) sitting next to me. The boy kept saying, "His motivation is unclear. Why is he so strange?" He was referring to Timon's showering his "friends" with money and gifts at his own peril. It seems unsatisfactory that Shakespeare should obscure such bizarre behavior or personality. The mother pointed out that such is the tradition of Greek tragedies, and don't forget the play is intentionally set in ancient Greece.
I couldn't help but inject myself into the conversation. "Why does Gatsby throw big parties every night?" Well there's an easy answer --- he wants to announce his presence to the girl across the bay. He wants to demonstrate that he is no longer poor and undesirable. He wants to show Daisy that he now deserves her love.
Is that so different from Timon of Athens?
I pointed out to the boy that bizarre behaviors are common among rich people, contrary to popular American mythology. For every Warren Buffett, you have dozens of Mercers and Kochs, and those are the "normal" ones. The director Robert Richmond modeled his Timon on the legendary weirdo rich man Howard Hughes, with the tics and OCD.
Nevertheless, Timon's desperate need for friends, along with his inability to find any, stabs you straight in the heart. Do we really not feel his motivation in our gut?
If Shakespeare were a true misanthrope, he would confirm Timon's worst nightmare that he truly does have no friends and there truly is no love between people. However, Shakespeare clearly was NOT a misanthrope. In a brilliant bit of casting, Richmond made his steward and one true friend Flavius into a woman. There is a tinge of sexual tension between Timon and Flavius that remains unresolved. Flavius represents real human relationships that Timon is unable to grasp. If we are still too dense to buy into Timon's extreme distrust of humanity, there is another character, General Alcibiades. While he takes revenge against the ungrateful treatment of his fellow Athenians like Coriolanus, his motivation is different from the latter. He is not banished for his own ego; rather, he tried to defend and save a friend. Even in a play that serves up the most angry diatribe against humanity, there is friendship and loyalty.
Maybe this is why Shakespeare's tragedies are so addictive. They're bleak, but they're not all that bleak. He is not an extremist.